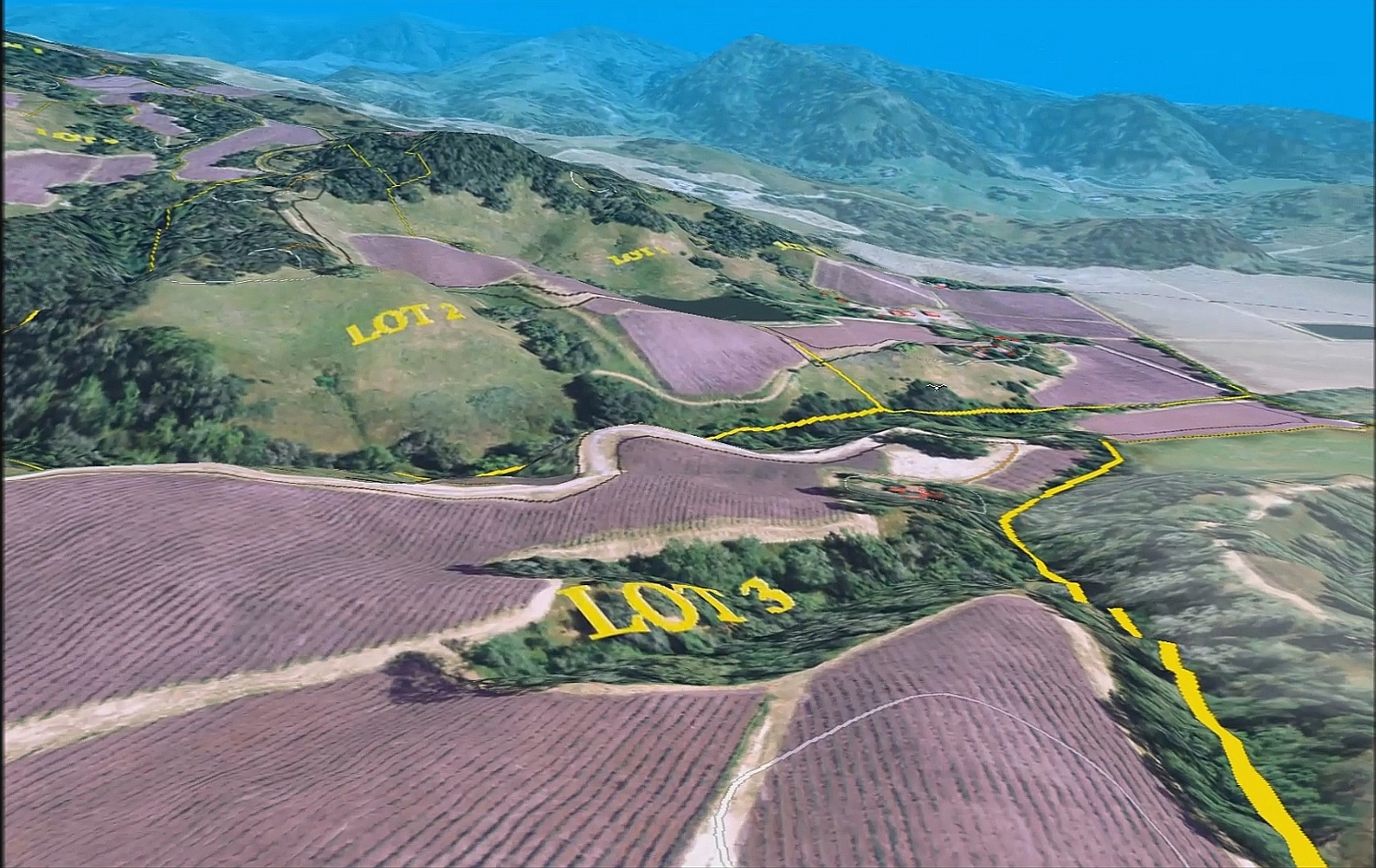 Make your content visual. Use 3-D Fly-through video to provide a Drone tour of your property and illustrate your unique story like never before. We use Google Earth 3-D model of the world as a base, then add personalized mapping with GIS, logos, pictures, text, and narration. You can even watch a sunset. We deliver a movie format file for use on a web page, smartphones, kiosk, PowerPoint presentations, staff training, and education, posting to Linkedin, Facebook, blogs and other social media. We do not use a template – our designs are custom fit to message and content and complete image.
We can also provide a virtual fly-through in an AutoCAD® environment to show how grading plans, new farming conversions, and future facilities will appear.
Example Layers of information to Add:
Soil type and underlying geology
Slopes and related vineyard development acreage (per regulation/request)
Wine appellation (aka American Viticultural Areas)
Aspect –the direction slopes face
Geography of an area (i.e. next to a creek, mountain top, protected valley)
Weather (fog intrusion, Mediterranean similar to Italy/France, etc.)
Vineyard block locations, names, what wines came from what block.
More detail vineyard block information because people are asking a specific varietal, clones, rootstock etc. and what makes these special for the given site.
Farming practices (Ex: Sustainable/"Green", Organic/Biodynamic, water use, hand-selected harvesting, creek & wildlife buffer strips, Foster year-round workforce supporting local families and economy
Winemaking philosophy and unique personalities
Improvements (existing vineyard, wells, buildings, fences, etc.)
On-site pictures from locations they were taken
Example Uses:
Marketing and educating wine clients and/or distributors
Train staff to understand and sell more products.
Selling Real-Estate
Illustrate sun exposure of house or vineyard site(s) with actual sunrise/sunset location or animation, viewshed(s), etc.
Public forum presentations for development and approval
Social Media Content
Benefits and Value:
Show an in-depth report visually representing information in a more meaningful and useful format
Increase distributorship sales
Set yourself apart from the competition
Create a better understanding/relationship with the client
Increase direct sales by branding your locale
Tell your story better and put your clients there, wherever they are in the world.
Video Branding Examples
Some clients that have put this tool to work:
Kobrand Corp
Estero Ranch
Alexander Valley – Hall Ranch
Branding Examples
Some clients that have put this tool to work:
Kobrand Corp
"The movie was a huge hit.  The music and the words at the end really were a great finish.   They said on a scale of 1 to 10 that our presentation was a 15!" ~Jane McGrath VP, Kobrand Corporation
Estero Ranch
"I highly recommend Walter and his work. I've used Walter for several years, he is fast, efficient, creative and communicates well" ~Karl Bundesen, President, Century 21 Bundesen
Alexander Valley – Hall Ranch
Used on website to market ranch estate parcels.